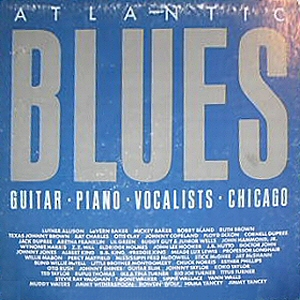 O ano era 1986 e o mercado de discos dava pulos de alegria; o plano cruzado (não sabem o que foi isso? Vão conhecer história contemporânea do Brasil.) deixava as gravadoras de sorriso aberto, faltava até papel pra fazer as capas, discos eram prensados na Argentina, lançamentos inacreditáveis eram comprados em qualquer lojinha de esquina. Nesse ambiente, aparece por aqui a primeira das coleções comemorativas de 50 anos da Atlantic Records.
Atlantic Blues era uma série de 4 albuns duplos, com o que havia de mais influente no blues do pós guerra, apesar da Atlantic não ser uma gravadora de Chicago como a Chess records. Dividido de forma estilística (Piano, Vocal, Guitarra e Chicago), suas capas internas (em português, uma raridade) tinham mais informações sobre o estilo do que havia disponível na imprensa musical brasileira em 10 anos. É bom que fique claro que não se trata de uma coletânea pra iniciar incautos, mais uma boa forma de juntar singles a muito tempo fora de catálogo, que muitas vezes eram a única produção fonográfica daquele artista. Há uma curiosidade engraçada sobre as versões em cd: todas tem músicas a menos, normalmente duas, pois os albuns tinham um pouco mais de 80 minutos, que é o tamanho de um compact disc, o que fez com que os lps originais se tornassem obrigatórios. Até porque, uma das minhas favoritas "It hurts love someone" de Guitar Slim, só aparece no disco duplo de vinil. É uma aula em cada faixa, dividida em 4 "módulos" de fino trato.
Texto |
Clash City Rockers
ATLANTIC BLUES: CHICAGO
01. Chicago Blues - Johnny Jones
02. Poor Man's Plea - Buddy Guy, Junior Wells
03. My Baby She Left Me (She Left Me a Mule to Ride) - Buddy Guy, Junior Wells
04. T-Bone Shuffle - Buddy Guy, Junior Wells
05. I Wonder Why - Freddie King
06. Play It Cool - Freddie King
07. Woke up This Morning - Freddie King
08. Gambler's Blues - Otis Rush
09. Feel So Bad - Otis Rush
10. Reap What You Sow - Otis Rush
11. Highway 49 - Howlin' Wolf
12. Honey Bee - Muddy Waters
13. Wang Dang Doodle - Koko Taylor
14. Dust My Broom - Johnny Shines
15. Please Send Me Someone to Love - Luther Allison
16. Walkin' the Dog - Luther "Guitar Junior" Johnson
17. I Feel So Good - J.B. Hutto
DOWNLOAD
ATLANTIC BLUES: GUITAR
01. Broke Down Engine - Blind Willie McTell
02. Shake 'Em on Down - Mississippi Fred McDowell
03. My Baby Don't Love Me - John Lee Hooker
04. Tall Pretty Woman - Sticks McGhee
05. Blues Rock - Texas Johnny Brown
06. There Goes the Blues - Texas Johnny Brown
07. Bongo Boogie - Texas Johnny Brown
08. Two Bones and a Pick - Texas Johnny Brown
09. Let Me Know - Chuck Brown
10. Down Through the Years - Guitar Slim
11. Okie Dokie Stomp - Cornell Dupree
12. TV Mama - Big Joe Turner
13. Reconsider Baby - Al King
14. Midnight Midnight - Mickey Baker
15. I Smell Trouble - Ike & Tina Turner
16. Why I Sing the Blues - B.B. King
17. Crosscut Saw - Albert King
18. Born Under a Bad Sign - Albert King
19. Shake for Me - John Hammond, Jr.
20. Flood Down in Texas - Stevie Ray Vaughan
DOWNLOAD
ATLANTIC BLUES: PIANO
1. Yancey Special - Jimmy Yancey
2. Talkin' Boogie - Little Brother Montgomery
3. Mournful Blues - Jimmy Yancey
4. Salute to Pinetop - Jimmy Yancey
5. Shave 'Em Dry - Jimmy Yancey
6. Frankie and Johnny - Champion Jack Dupree
7. T.B. Blues - Champion Jack Dupree
8. Strollin' - Champion Jack Dupree
9. Tipitina - Professor Longhair
10. Blue Sender - Harry Van Walls
11. After Midnight - Harry Van Walls
12. Roll 'Em Pete - Joe Turner
13. 'Fore Day Rider - Jay McShann
14. My Chile - Jay McShann
15. Cow Cow Blues - Meade "Lux" Lewis
16. Albert's Blues - Meade "Lux" Lewis
17. Honky Tonk Train Blues - Meade "Lux" Lewis
18. Low Society - Ray Charles
19. Hey Bartender - Floyd Dixon
20. Floyd's Blues - Floyd Dixon
21. After Hours Blues - Texas Johnny Brown
22. Junco Partner - Dr. John
23. I Don't Know - Willie Mabon
DOWNLOAD
ATLANTIC BLUES: VOCALISTS
01. Suitcase Blues - Sippie Wallace
02. Trouble In Mind - Jimmy Witherspoon
03. In The Evenin' - Jimmy Witherspoon
04. Gimme A Pigfoot - Lavern Baker
05. How Long Blues - Mama Yancey
06. Oke-She-Make-Me-Pop - Joe Turner
07. I've Got That Feelin' - Lil Green
08. Every Time - Lil Green
09. Destination Love - Wynonie Harris
10. Tell A Whole Of A Tale - Wynonie Harris
11. Rain Is A Bringdown - Ruth Brown
12. Nothing Stays The Same Forever - Percy Mayfield
13. River's Invitation - Ted Taylor
14. Just Like A Fish - Esther Phillips
15. Pouring Water On A Drowning Man - Otis Clay
16. Did You Ever Love A Woman - Rufus Thomas
17. Baby Girl Parts 1&2 - Titus Turner
18. Ain't That Lovin' You - Bobby Bland
19. It's My Own Tears That's Being Wasted - Johnny Copeland
20. Cheatin' Woman - Eldridge Holmes
21. I Had A Dream - Johnny Taylor
22. Takin' Another Man's Place - Aretha Franklin
23. It's A Hang-Up Baby - Z.Z. Hill
DOWNLOAD