SONNY TERRY
Saunders Terrell, mais conhecido como Sonny Terry, nasceu em Greensboro, na Carolina do Norte no dia 24 de outubro de 1911. Seu pai, um fazendeiro o ensinou as primeiras notas na harmônica quando ele ainda era jovem. Ele perdeu a visão de um dos olhos em um acidente quando tinha cinco anos e um outro acidente aos dezoito tiraria a visão quase completa do outro olho. Essa deficiência o impedia de executar os trabalhos na fazenda, então ele logo foi para as ruas, armado de suas harmônicas, para ganhar a vida. Terry desenvolveu seu próprio estilo de tocar, imitando trens e uivos de raposa.

Logo após a morte de seu pai ele conheceu Blind Boy Fuller, um dos pioneiros do Piedmont-style blues, e eles começaram a tocar juntos. Terry gravou com ele pela primeira vez em 1937, pela Vocalion Records. Essa parceria terminaria em 1941 com a morte de Fuller, e ele logo em seguida formaria uma nova parceria, agora com Brownie McGhee.
BROWNIE McGHEE
Walter "Brownie" McGhee nasceu em Kingsport, no Tennessee, no dia 30 de novembro de 1930. Quando criança contraiu poliomielite, o que incapacitou uma de suas pernas. Ele passou boa parte de sua juventude envolvido com a música, cantando no coral "Golden Voices Gospel Quartet". Aos 22 anos ele se tornou um músico viajante e nessa época conheceu Blind Boy Fuller, que influenciou profundamente sua maneira de tocar. Depois da morte de Fuller, J.B Long da Columbia Records fez com que McGhee adotasse o nome de seu tutor e ele passou a se apresentar como Blind Boy Fuller II. Porém o sucesso só viria em 1942, quando ele foi para Nove Iorque em companhia de Sonny Terry.
SONNY TERRY & BROWNIE McGHEE
Brownie conheceu Terry na Carolina do Norte, em 1938, mas só viriam a gravar juntos em 1940. stava formada uma longa e duradoura parceria, que renderia muitos discos. Eles partiriam para Nova Iorque, onde a cena folk estava em ascensão. Lá eles trabalharam com Leadbelly, Josh White e Woody Guthrie. Entre 1942 e 1950, McGhee também trabalhou em sua própria escola de música, a "Home of the Blues, no Harlem. Depois do fim da Segunda Guerra, McGhee fez inúmeras gravações, com e sem Terry, para vários selo R&B como Savoy, Alert, London, Derby, Dot, e Harlem. Sonny Terry fez o mesmo, com gravações para os selos Jackson, Red Robin, RCA Victor, Groove, Harlem, Old Town, e Ember, muitas vezes com McGhee no violão.

Sonny Terry & Brownie McGhee estão entre os primeiros artistas de blues a excursionar pela Europa, durante a década de 50. Eles também viajaram com vários festivais de folk e blues, por toda América, Canadá e Europa, aparecendo em programas de tv e filmes. Eles só se separariam em 1970, para cuidarem de seus problemas pessoais. Terry continuou tocando e gravando até falecer em 1986. Brownie passou os próximos 10 anos tocando em festivais e gravando. Sua última aparição foi no Chicago Blues Festival de 1995, pouco antes de falecer, aos 80 anos, no dia 16 de janeiro de 1996.
Texto retirado de:
Blues Everyday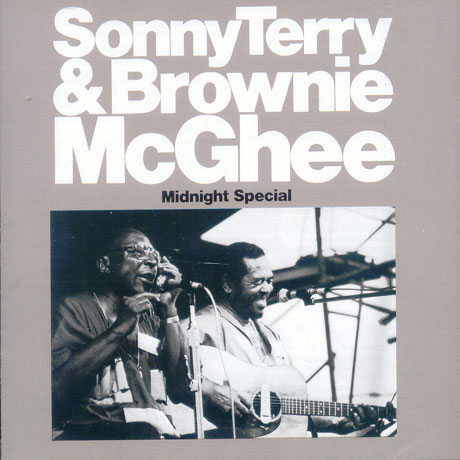 1978 | MIDNIGHT SPECIAL
01 | Sonnys Squall
02 | Red River Blues
03 | Gone Gal
04 | Blues Before Sunrise
05 | Sweet Lovin Kind
06 | Midnight Special
07 | Take This Hammer Whup
08 | Too Nicey Mama
09 | Meet Me Down The Bottom
10 | Tryin To Win
11 | Blues All Around My Head
12 | East Coast Blues
13 | Muddy Water
14 | Beggin And Cryin
15 | My Plan
16 | Trying To Destroy Me
17 | Everything I had Is Gone
18 | Jealous Man
19 | Understand Me
20 | Blues Of Happiness
DOWNLOAD