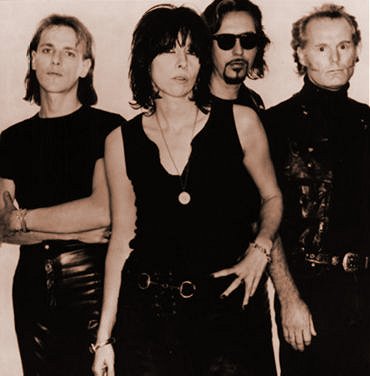 The Pretenders é uma banda de rock do Reino Unido. A banda original era formada pela vocalista e guitarrista Chrissie Hynde, o guitarrista James Honeyman-Scott, o baixista Pete Farndon, e Martin Chambers.
O grupo formou-se na Inglaterra no final da década de 70, pela vocalista Chrissie Hynde, uma norte-americana que já havia participado dos grupos: Jack Rabbit, nos EEUU e Gallie, na França. Os outros integrantes eram Pete Farndon (baixo) , James Honeyman-Scott (vocais, teclados, guitarra) e Martin Chambers (bateria).
Depois dos compactos "Stop Your Sobbing" e "Kid" , fizeram uma turnê inglesa, recebendo alguma cobertura da imprensa. O compacto "Brass in Pocket" entrou para as paradas de sucesso de 1979, ano de lançamento do primeiro LP, que atingiu rápidamente o primeiro lugar dos mais vendidos.
Participaram do concerto beneficente para os refugiados do Camboja (possuem três faixas no álbum Concerts for People of Kampuchea) e partiram para turnês na Europa e EUA, sendo muito bem recebidos por crítica e público. A revista Rolling Stone premiou os Pretenders como a grande revelação de 1980. Em 1982, morreu Honeyman-Scott, mas Chrissie Hynde anunciou que o conjunto não se acabaria encontrando-se em atividade atualmente.
Em 1993, o Pretenders perdeu vários integrantes da banda os quais foram contratados por Paul McCartney em sua mega turnê "Off The Ground", apresentando-se na América Latina.
Retirado de Wikipédia
1980 | THE PRETENDERS
01 | Precious
02 | The Phone Call
03 | Up the Neck
04 | Tattooed Love Boys
05 | Space Invader
06 | The Wait
07 | Stop Your Sobbing
08 | Kid
09 | Private Life
10 | Brass in Pocket
11 | Lovers of Today
12 | Mystery Achievement
DOWNLOAD