Conhecido por baladas românticas e melosas de rádios tipo "vitrolão" de freqüência modulada, como Only a Dream In Rio (ainda mais aqui), James Taylor começou como músico clássico e, no auge da boemia do nova-iorquino Village dos anos 60, virou um roqueiro da pesada.
Formou uma banda – a Flying Machine que não desandou. Taylor começou a se afundar em seu primeiro contato com heroína. Quando a barra de fato piorou, ele decidiu mudar de ares: foi para Londres. Lá, conheceu o músico e produtor Peter Asher, através de contatos com ex-produtores seus. Asher era irmão da namorada de Paul McCartney (e parte do duo Peter And Gordon) e acreditou no trabalho do músico norte-americano. Quando os Beatles fundaram o seu próprio selo (a Apple), eles resolveram apostar em um artista não britânico. O disco, apesar de interessante, não vendeu bem.
A carreira desandou, ele teve uma recaída com drogas em fins de 1968, a Apple começou a fazer água junto com o ânimo do quarteto de Liverpool e James voltou para os Estados Unidos, fixando-se no cenário musical californiano. Ainda sofreu um grave acidente de moto, fraturando as duas mãos, fato que o fez permanecer recluso por vários meses. A maré de eventos funestos só iria mudar quando ele conseguiu um contrato novinho em folha com a Warner.
Contando com o auxílio de Asher, que também se mudara para a América, ele compôs Sweet Babe James, que seria as suas boas vindas ao universo do disco. O álbum deslanchou — ainda mais com o sucesso do single Fire And Rain, e a mudança do seu estilo musical, mais introspectivo e suave, com arranjos acústicos de extrema qualidade. A música-tema, uma berceuse, é uma triste canção que fala de um cara solitário, à margem do misantropismo, perdido no tempo, como lágrimas na chuva, tendo por companhia um cavalo pastando. "Verdes profundos e azuis/são asa cores que eu escolhi/você não vai me deixar triste em meus sonhos").
O impacto foi tão grande que, junto com Sweet Baby James, foram exumados tanto o seu debut fonográfico quando os tapes que ele gravara com a Flying Machine e marcaria o seu estilo com a sua voz marcante e seu estilo ímpar de dedilhar o violão. Fire And Rain fala de sua experiência em clínicas de reabilitação para dependentes químicos e dos tempos em que ele procurava alguma saída para toda aquela ciranda de insucessos e frustrações que o cercava, é triste de doer — ainda mais quando ele fala e solidão, depressão e da perda de sua amiga mais próxima, Suzanne Schnerr.
A parceria com Danny Kortchmar rendeu uma seção acústica sublime, como no blues Oh Baby, Don't You Loose Your Lip on Me e uma das versões mais bonitas do clássico do compositor americano Stephen Forster, Oh Suzannah, em forma de uma doce balada para ninar gente grande. Suite For 20 G é a que mais destoa do disco, por ser experimental (tem 3 seções, rápida-lenta-rápida), e mistura elementos de jazz e um naipe de metais. Consta que a idéia não é proposital.
Taylor precisava de uma última faixa para a mixagem final e lhe ocorreu que seria mais interessante se ele juntasse pedaços de três canções inacabadas — e o resultado foi surpreendente.
Texto:
1001 albuns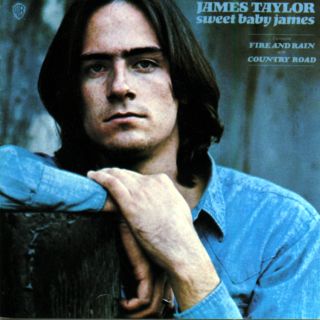 1970 | SWEET BABY JAMES
Sweet Baby James
Lo and Behold
Sunny Skies
Steamroller
Country Road
Oh, Susannah
Fire and Rain
Blossom
Anywhere Like Heaven
Oh Baby, Don't You Loose Your Lip On Me
Suite For 20G
DOWNLOAD