Bad Company foi uma banda inglesa de hard rock formada em 1973, com sucessos como "Shooting Star", "Bad Company", "Can't Get Enough", "Feel Like Makin' Love", "Ready for Love" e "Silver, Blue and Gold".
Sua formação original foi composta por Paul Rodgers (vocal), Simon Kirke (bateria), Mick Ralphs (guitarra) e Boz Burrell (baixo).
Seu último álbum foi Merchants of Cool (2002), uma compilação ao vivo, com os principais sucessos e mais duas canções novas gravadas em estúdio: "Saving Grace" e "Joe Fabulous".
Seus integrantes originais tinham tocado anteriormente em outras bandas britânicas: Free, Mott The Hoople e King Crimson.
Seu álbum de estréia, homônimo, foi lançado em 1974 pela Swan Song, e figurou entre os cem mais vendidos da década de 1970 na Billboard. Nele se encontram alguns dos clássicos do Bad Company, como a faixa título do álbum e Can't Get Enough. Em abril de 1975 a banda retornou com o lançamento do seu segundo álbum, Straight Shooter, que também teve excelentes vendagens, e emplacou novos sucessos como Feel Like Makin' Love. A este segundo álbum seguiram-se Run with the Pack (1976), ainda com boas vendagens, Burnin' Sky (1977) e Desolation Angels (1979), todos álbuns competentes. Depois do álbum de 1982, Rough Diamonds, o vocalista Paul Rodgers deixou a banda, e a mesma, ao que tudo indicava, estava destinada a se acabar. Rodgers passou a integrar a banda formada por Jimmy Page, ex-Led Zeppelin, denominada de The Firm.
Não obstante, em 1986, a banda retornou com novo vocalista, Brian Howe, apresentando um trabalho completamente diferente daquele que a havia caracterizado até então. O disco Fame and Fortune, em nada se assemelha com o hard rock dos anos 1970, se aproximando muito mais da sonoridade do glam metal americano dos anos 1980, mas sem o figurino espalhafatoso que caracteriza os integrantes habituais deste estilo. Os trabalhos posteriores, até meados dos anos 1990, seguiram esta tendência, sendo que no competente álbum de 1990, chamado Holy Water, a banda conseguiu emplacar uma música de relativo sucesso comercial, a balada If You Needed Somebody. Este disco foi certificado como Platinum pela RIAA. A ele se seguiu o disco Here Comes Trouble (1992), que ainda conseguiu atingir o certificado Gold pela RIAA.
Em 1995 a banda lança novo disco, Company of Strangers, com o novo vocalista, Robert Hart, no lugar de Brian Howe. Em 1997 a banda ainda lança um segundo disco com este vocalista, Stories Told & Untold, com regravações de antigos sucessos da banda e sete novas músicas. O disco é um fracasso comercial. Em 1998, Rodgers e Kirke discutem a possibilidade da banda voltar a sua formação original. Com o lançamento da compilação The Original Bad Company Anthology, de 1999, aparecem quatro novas músicas gravadas com Rodgers.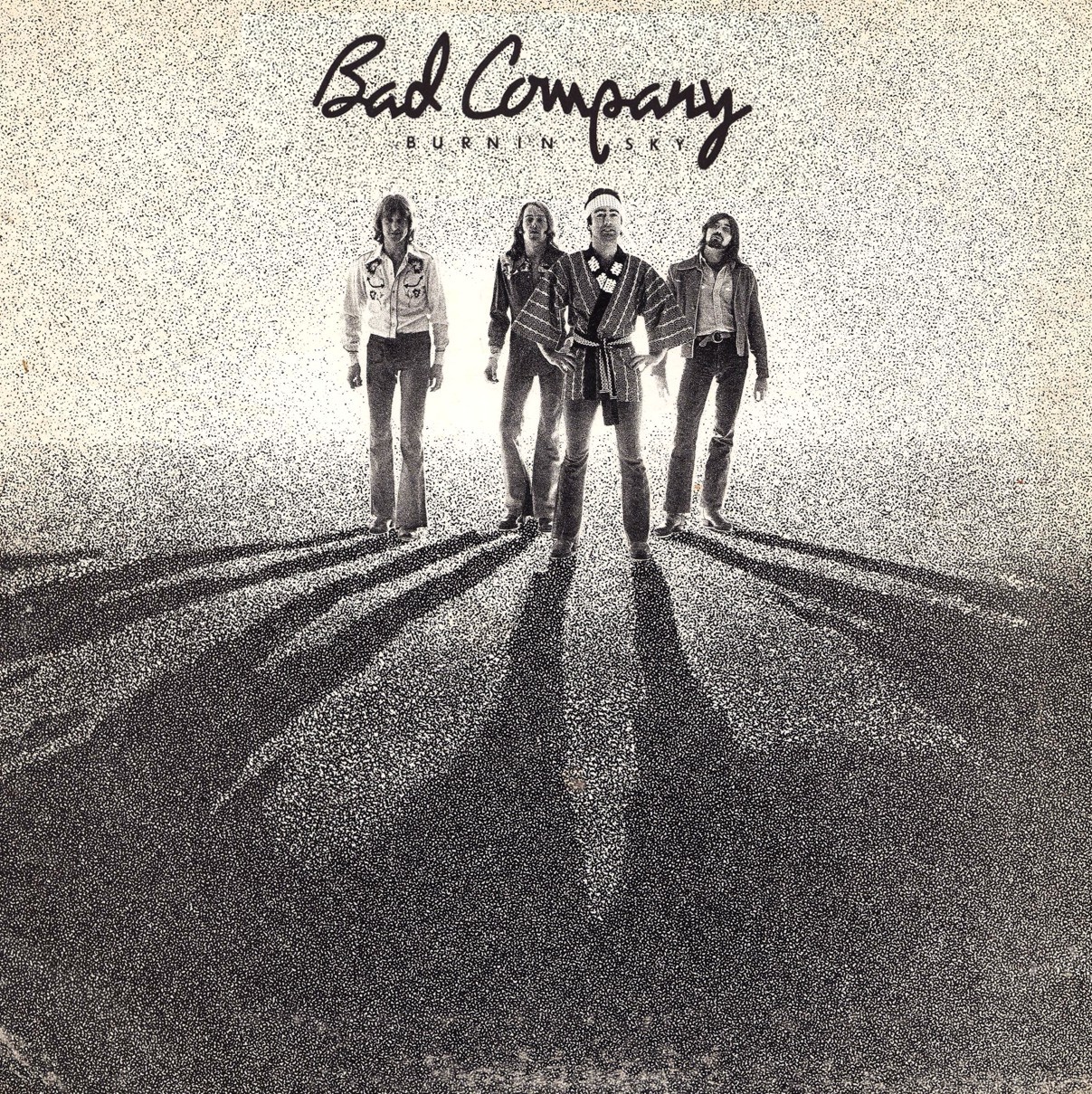 1977 | BURNIN' SKY
01 | Burnin' Sky
02 | Morning Sun
03 | Leaving You
04 | Like Water
05 | Knapsack
06 | Everything I Need
07 | Heartbeat
08 | Peace of Mind
09 | Passing Time
10 | Too Bad
11 | Man Needs Woman
12 | Master of Ceremony
DOWNLOAD