Texto:
Whiplash
O Talk Talk é conhecido no Brasil apenas por uma música, "It's My Life" ("It's my life / don't you forget / it's my life / it never ends"). Apesar de ser uma grande canção, ela nos dá uma impressão errada sobre a banda. Por causa de sua sonoridade característica dos anos 80, muita gente acaba classificando o Talk Talk como uma banda imitação do Duran Duran. Isso pode até ser verdade se o Talk Talk parasse de gravar em 1985. O que muitos não sabem é que o Talk Talk é uma das bandas mais ousadas, visionárias e subestimadas de toda a história do rock.
O líder e mentor do Talk Talk é um cara chamado Mark Hollis, que, em 1977, resolveu largar o curso de psicologia infantil na universidade de Sussex, se mudar para Londres e formar a banda The Reaction. Seu irmão, Ed Hollis, que era bem conhecido no meio (ele era produtor da banda punk Eddie and the Hot Rods e, anos mais tarde, veio a trabalhar com os grandes The Damned e Stiff Little Fingers) ajudou o The Reaction a lançar o single "I Can't Resist". Depois deste único lançamento, o The Reaction se desintegrou e Mark passou dois anos escrevendo novas canções até, através de seu irmão Ed, ser apresentado ao baterista Lee Harris, ao baixista Paul Webb e ao tecladista Simon Brenner. Formava-se assim, em 1981, o Talk Talk.
Depois de ouvir algumas demos e ver algumas apresentações ao vivo, a EMI decide assinar com o Talk Talk. A gravadora tinha em mente lançar o Talk Talk como uma banda bem na linha do, na época, ultra-famosos Duran Duran. Por isso, até o mesmo produtor, Colin Thurston, é chamado para trabalhar no primeiro álbum, "The Party's Over", lançado em 1982. Apesar do sucesso do disco impulsionado pelos hits "Today" e "Talk Talk", a banda se mostra bastante insatisfeita com o produtor do Duran Duran e com o tecladista Simon Brenner e resolve substituí-los por um só homem, Tim Friese-Greene, fato que veio mudar drasticamente os rumos do Talk Talk.
Em Friese-Greene, Mark Hollis encontra o parceiro ideal para realizar todas as suas ambições musicais. O segundo álbum, "It's My Life", lançado em 1984, mostra uma incrível evolução em relação ao primeiro álbum com a inclusão de canções mais introspectivas como "Renée" e "Tomorrow Started". Apesar de ter atingido um sucesso menor do que o esperado no Reino Unido, "It's My Life" conquista disco de ouro na Europa e o grupo também consegue certa notoriedade nos EUA.
Em 1986, o grupo dá mais um passo adiante, artística e comercialmente, e lança "The Colour of Spring". Nesse disco, o Talk Talk finalmente decide largar a sonoridade enlatada característica de seus contemporâneos e faz uma obra ousada, com arranjos complexos, som mais orgânico e, ainda assim, pop. "Life's What You Make It", "Give It Up" e "Living in Another World" fazem de "The Colour of Spring" o disco mais vendido da carreira da banda. Assim, o Talk Talk ganha maior confiança de sua gravadora EMI, que dá à banda liberdade financeira para a gravação do álbum subseqüente.
Mark Hollis se muda de Londres para a pacata Suffolk e o Talk Talk leva catorze meses para gravar "Spirit of Eden", lançado em 1988. Nesse meio tempo, Hollis se recusou a mandar qualquer demo para sua gravadora e ainda anunciou que não haveria singles nem turnês promocionais, já que era impossível recriar ao vivo a complexidade que a banda atingira em estúdio. Diz a lenda que quando o diretor artístico da EMI ouviu "Spirit of Eden" pela primeira vez, ele chorou. Se é por causa de sua beleza ou por que o disco não era nem um pouco parecido com o bem sucedido "The Colour of Spring", ninguém sabe. O que é fácil identificar é o nível que a banda havia atingido. "Spirit of Eden" é um disco que rejeita qualquer classificação, mas, ao mesmo tempo, abrange todas: rock, blues, jazz, pop, erudito. Não é nem preciso dizer que o disco foi um fracasso de vendas, mas aclamado pela crítica. "Spirit of Eden" ainda é o disco favorito de muitos artistas como Sarah McLachlan, Rob Dickinson, do Catherine Wheel e Cliff Jones, do Gay Dad.
Para tentar compensar os gastos de "Spirit of Eden", a EMI lança em 1990, a coletânea "Natural History: The Very Best Of Talk Talk", que, surpreendentemente, vende mais de um milhão de cópias.
Em 1991, o Talk Talk, já sem o baixista Paul Webb, lança "Laughing Stock"pelo selo de jazz Verve da Polydoor. "Laughing Stock" é para muitos a obra-prima do Talk Talk, mas, infelizmente, o último disco da banda.
Paul Webb e Lee Harris juntaram forças novamente e formaram a banda 'O'Rang, que lançou o primeiro disco "Herd of Instinct", em 1995. A dupla também participa de "Out of Season", primeiro disco solo da cantora do Portishead, Beth Gibbons, lançado em outubro de 2002. Mark Hollis desapareceu por sete anos e voltou só em 1998 com seu primeiro álbum solo. Em 1999, é lançado o disco ao vivo "London 1986".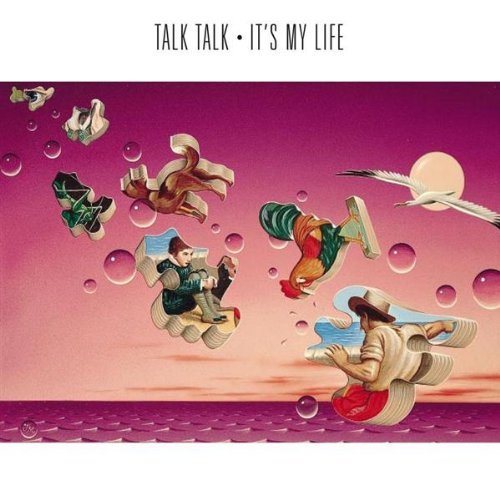 1984 | IT'S MY LIFE
01 | Dum Dum Girl
02 | Such a Shame
03 | Renée
04 | It's My Life
05 | Tomorrow Started
06 | The Last Time
07 | Call in the Night Boy
08 | Does Caroline Know?
09 | It's Youaney
DOWNLOAD