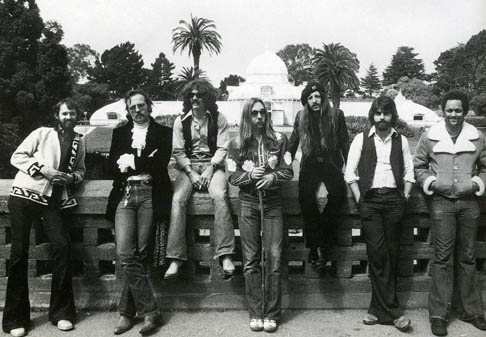 Em 1972, a sacudida e contagiante Listen To The Music abriu as portas do sucesso em termos mundiais para os Doobie Brothers. Esse single, assim como o álbum que a contém, Toulouse Street, venderam milhões de cópias e apresentaram a muita gente o trabalho dessa banda oriunda da cidade de San Jose, no estado americano da California.
O início de tudo ocorreu no fim dos anos 60, quando o cantor, compositor e músico Skip Spence, ex-Jefferson Airplane e Moby Grape, conheceu o cantor, compositor e guitarrista Tom Johnston. Logo a seguir, ele apresentou ao novo amigo o baterista e percussionista John Hartman. A ideia inicial era montar uma nova versão do Moby Grape, mas logo Spence saiu de cena.
Após alguns meses, Johnston e Hartman conheceram o cantor, compositor e guitarrista Patrick Simmons, que se juntou ao time, assim como o baixista Dave Shogren. Com essa escalação, após tocarem em bares na chamada Bay Area, eles atraíram as atenções da Warner Brothers, e gravaram em 1971 um auto-intitulado álbum de estreia.
Embora contivesse uma música espetacular que ironicamente só fez sucesso aqui no Brasil, a contundente Nobody, o álbum não conseguiu obter a repercussão que merecia. Mesmo assim, a gravadora continuou acreditando na banda, e deu a eles a oportunidade de gravar um novo trabalho, em meio a mudanças em sua formação.
Dave Shogren participou de duas músicas do novo álbum, mas acabou saindo fora. Ele foi substituído por um antigo conhecido de Patrick Simmons, o baixista e vocalista Tiran Porter. De quebra, o time ganhou um segundo baterista, Michael Hossack, o que deu à banda uma de suas marcas registradas e aumentou o seu poder de fogo.
Graças ao estouro de Listen To The Music, Toulouse Street invadiu as paradas de sucesso e mostrou as armas da banda: um vocalista e guitarrista-solo carismático (Tom Johnston), vocalizações personalizadas, uma segura e criativa mistura de rock and roll, soul, country, folk e pop e um guitarrista, cantor e compositor que funcionava como ótimo contraponto à excelência de Johnston, o também ótimo Patrick Simmons.
O segundo álbum dos Doobies quase foi produzido por um amigo ilustre, Pete Townshend, mas o líder do The Who estava particularmente enrolado na época, e a tarefa acabou ficando nas mãos de Ted Templeman, que se incumbiu com extrema categoria da função, que exerceu posteriormente em vários outros trabalhos da banda.
O lado rock and roll do álbum aparece em petardos como Rockin' Down The Highway e Disciple, enquanto o gospel rock é a marca de Jesus Is Just Alright, que já havia sido gravada anteriormente pelos Byrds no álbum Ballad Of Easy Rider (1969), mas que aqui encontra a sua versão definitiva.
A faceta folk da banda surge na animada Mamaloi e na introspectiva e belíssima Toulouse Street, enquanto o blues dá o tom nas releituras de Cotton Mouth, do duo Seals & Crofts, e Don't Start Me To Talkin, de Sonny Boy Williamson.
Bom como um todo, Toulouse Street tem uma curiosidade: na parte interna do CD e da capa dupla da versão original em vinil, temos uma foto dos integrantes da banda pelados e envolvidos por um interessante elenco de legítimas "garotas da vida nada fácil". Cada um esconde o "mr. dick" do seu jeito, com Johnston colocando um chapéu em cima do mesmo.
Por:
Fabian Chacur
1972 | TOULOUSE STREET
01 | Listen To The Music
02 | Rockin' Down The Highway
03 | Mamaloi
04 | Toulouse Street
05 | Cotton Mouth
06 | Don't Start Me To Talkin'
07 | Jesus Is Just Alright
08 | White Sun
09 | Disciple
10 | Snake Man
DOWNLOAD