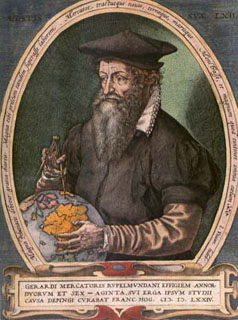 Gerard Mercator (05/03/1512 - 02/12/1594) é considerado um divisor de águas na história da cartografia. Eminente geógrafo flamengo do século 16, foi ele o criador da primeira representação cartográfica confiável da esfera terrestre, através de projeções sobre uma superfície bidimensional e de um conjunto de mapas por ele denominado Atlas (já ouviu falar nessa palavra?), em homenagem ao rei Atlas da Mauritânia.
Pois ninguém melhor do esse senhor para batizar o primeiro álbum de uma banda inglesa que era um verdadeiro mapa-mundi de influências sonoras, anos antes da expressão world music ser cunhada pelos rotuladores de plantão.
Mercator Projected é o nome do álbum e a banda é nada mais nada menos que o East of Eden, uma ilustre desconhecida nos dias de hoje, mas um dos grupos mais originais da incipiente cena progressiva de sua majestade.
Formada em Bristol, no ano de 1967, e mudando para Londres no ano seguinte, a banda assinou com a Decca e passou a fazer parte do selo Deram. Sua formação na época era Dave Arbus (violino elétrico, flauta e saxofone), Ron Caines (sax alto), Geoff Nicholson (guitarra e vocais), Steve York (baixo) e Dave Dufont (percussão).
Mercator Projected saiu em 1969, misturando jazz, Bela Bártok, música oriental e rock, num caminho totalmente contrário ao dos medalhões da época que via de regra adotavam a fórmula solos de guitarra/teclados pirotécnicos.
Dave Arbus era o grande músico da banda, um cara totalmente maluco por Charles Mingus. Depois de ver Jean Luc-Ponty num show em Paris, passou a eletrificar seu violino, criando uma das marcas registradas do som do East of Eden (uma curiosidade: foi ele o responsável pelo longo solo de violino no final da música "Baba O'Riley" do The Who).
O álbum Mercator Projected trazia oito músicas que logo fixaram a banda como uma das mais cultuadas pelo público underground inglês, o que encorajou a Deram a lançar um segundo álbum: a obra-prima Snafu.
Com a formação alterada com a entrada de Andy Sneddon no baixo e Geoff Britton (mais tarde do Wings de Paul McCartney) na bateria, este álbum escancara ainda mais as influências jazzísticas de Dave Arbus e alcança o Top 30 nas paradas da Inglaterra.
Curioso é que no final de suas apresentações ao vivo, os músicos sempre tocavam uma musiquinha totalmente diferente do estilo de seu repertório, mais folk e brincalhona, como uma forma de relaxar a audiência após tanta massa sonora.
Pois não é que "Jig-a-Jig", esse era o mome da musiquinha, gravada como single na época, chegou ao sétimo lugar nas paradas, permanecendo entre as dez mais por 12 semanas seguidas! Apesar de financeiramente satisfatório, esse sucesso repentino acabou por confundir o novo público que procurava nos discos do East of Eden mais exemplos comerciais de "Jig-a-Jig" e acabavam encontrando um som absolutamente refinado e desafiador.
Em 1972 o grupo sai da Deram e assina com a Harvest, lançando dois bons álbuns, embora bem mais convencionais. Vários discos e formações diferentes depois, a banda acaba em 1978, sem nunca ter reprisado o brilho de seus dois primeiros trabalhos.
Mercator Projected e Snafu permanecem como dois grandes exemplos de como o progressivo inglês soube ser imaginativo e audacioso antes de ser dominado pela ganância das gravadoras e pela megalomania inconseqüente de seus músicos.
Por |
Marco Gaspari
1969 | MERCATOR PROJECTED
01 | Northern Hemisphere
02 | Isadora
03 | Waterways
04 | Centaur Woman
05 | Bathers
06 | Communion
07 | Moth
08 | In The Stable Of The Sphinx
09 | Waterways (demo)
10 | In The Stable Of The Sphinx (demo)
11 | Eight Miles High (live)
DOWNLOAD
1970 | SNAFU
01 | Have To Whack It Up
02 | Leaping Beauties For Rudy
03 | a. Xhorkham
b. Ramadham
c. In The Snow For A Blow
04 | Uno Transito Ciapori
05 | a. Gum Arabic
b. Confucius
06 | Nymphenburger
07 | a. Habibi Baby
b. Beast Of Sweden
c. Boehm Constrictor
08 | Traditional: Arranged By East Of Eden
Bonus Tracks
09 | Jig-A-Jig (A-side Of Deram DM 297-Released May 1970)
10 | Petite Fille
11 | Biffin Bridge
12 | Blue Boar Blues
13 | Nymphenburger (First Take)
14 | Marcus Junior (Single Edit, B-Side Of Deram DR 297)
15 | Jig-a-Jig (Take Nine)
DOWNLOAD